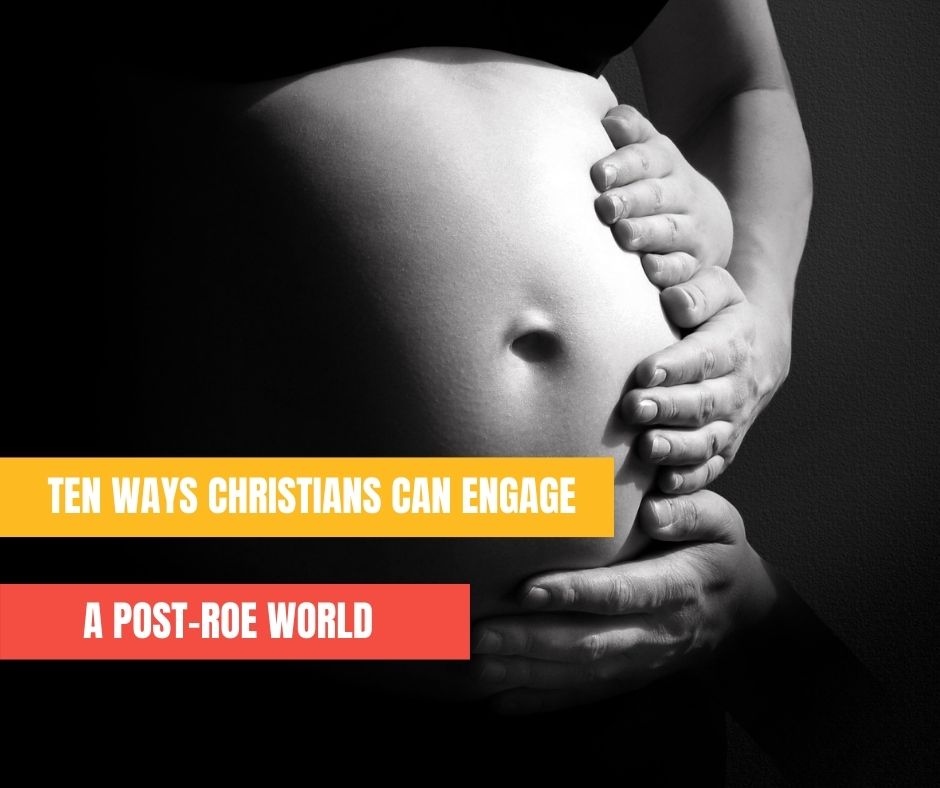 It's no secret that abortion is a culturally polarizing issue in America, holding the power to divide Americans as much as other hot-button topics, such as gun control or the LGBTQ agenda. With that said, if the leaked Supreme Court draft opinion on the Dobbs v. Jackson Women's Health Organization case holds, Roe v. Wade will be overturned. Roe is the 49-year-old decision ruling that the U.S. Constitution protects a right to abortion before fetal viability and after fetal viability if the pregnancy endangers the pregnant woman's life or health.


The cultural shockwaves of this ruling will impact the Christian world, opening new doors of both opportunity and responsibility to comfort the weak and stand up for the fatherless. In Matthew 25:35, Jesus challenged Christians to take responsibility for the "least of these," saying, "For I was hungry, and you fed me, I was thirsty, and you gave me a drink, I was naked, and you clothed me, I was sick, and you visited me, I was in prison, and you came to visit me."


Often, the mother finds herself ill-equipped to care for her baby through a myriad of circumstances that require from her the mental, emotional and spiritual capacity to raise the child. Many of these would-be mothers need the emotional, financial and material support of the community as well.
Here's where the church comes in. If, in fact, the Dobbs decision causes the overturn of Roe, those who love Jesus will be given a monumental opportunity to address the moral, spiritual, emotional, educational and financial needs of pregnant women in difficult circumstances.


Are we ready?


The following list contains 10 ways Christians can make a significant impact on the life of a woman who finds herself and her baby in less than favorable circumstances:
Educate yourself on abortion law in your state. As many as 26 states may be changing their laws to limit abortion. Once you know the law, approach your pastor, small group leader or Bible study group, and find out how your church or group is going to take up the challenge to get involved.

Reach out to your pastors and ask if they would be willing to preach a sermon about the sanctity of human life, support mothers with an unplanned pregnancy or minister to women hurting from the pain of a past abortion. Share with the congregation what the church will be doing with these new ministry initiatives.

Research pregnancy resource centers in your area to find out what services they offer. Call a center to get a list of ongoing needs. Your church may already have their own center or be supporting a center but solidify whether your church has a budget to support their efforts.

Be the hands and feet of Jesus! Far too often, women say they got an abortion primarily because they could not afford to raise a child. Working alongside your church's pastoral staff, get the names of women in crisis. Find out their needs and undergird them with love and material support. Host a baby shower for the mother, help her with rent, buy her a car or help her find other forms of assistance available. Take the expectant mother on a coffee date—simply be her friend at a time of need in a way that would mean the most to her. Where appropriate, offer to babysit.

Place a box in the lobby of your church or another visible place to motivate people to give items to support the pregnancy resource center. Approach your local Christian or Catholic school to see if the principal would get the students involved in donating items and or raising money to support the center.

Start an abortion-recovery Bible study as 4 in 10 churchgoing women have had abortions. To help, gather post-abortive mothers who have been healed of their abortions. These mothers could act as mentors and facilitators for the study and give personal testimonies of the hope they found in Christ to have a full recovery. There are a variety of Bible studies tailored to women who have had abortions. They are available online with books or materials to lead a complete study. Studies are also available for fathers to heal from the scourge of abortion and its effects on the family. There are also resources available like Randy Alcorn's "Why Pro Life: Caring for the Unborn and their Mothers," which addresses this crucial topic both compassionately and grounded in science. Once your church has started a study, list it on social media sites and provide links for more information to encourage more women to attend.

Contribute to or start a blog for your church to keep congregants aware of ministry efforts toward those affected by abortion or crisis pregnancy. Feature ministry efforts, interview women who want to share their testimonies and feature the amazing stories of lives healed. Shine a light on the ministries of those leading the charge.

Share resources and encouragement on social media: Once a week, make a social media post encouraging others to choose life or highlight testimonies of mothers and babies who are thriving. Also post about the ongoing sorrows of abortion. There's so much that can be done online to bring awareness to this life-or-death issue.

Start an active prayer ministry for your local pregnancy center, and financially support the many pro-life groups who have already embraced this battle head on: National Right to Life, Priests for Life, Silent No More, Abby Johnson's And Then There Were None and Then There Were None (Abortion clinic staff recovery), Rachel's Vineyard, Pro-Life Action Ministries and Pro-Life Church Network, to name a few.

Participate in local and national pro-life marches like National March for Life - March for Life, prayer chains for life like LIFE CHAIN | Peaceful, Prayerful, Public Witness of Pro-Life Americans, 40 Days for Life and other events supporting the voice of those suffering from the trauma of abortion.
---
Liberty Counsel advances religious liberty, the sanctity of human life and the family through litigation and education. We depend on your support, which enables us to represent people at no cost. Click here to give.
For those of you who have not been receiving our content in your news feeds, there's only one way to fight back and be certain you are receiving the truth. Sign up for our emails. Click Here.