The list of corporations pushing HR 5 reads like a who's who of secular businesses. This devastating, anti-religious bill demands that everyone, even religious people and groups, affirm and elevate those struggling with sexual confusion and orientation. Shockingly, this bill has more than a hundred very deep pockets pushing it. Find out which ones below. -Mat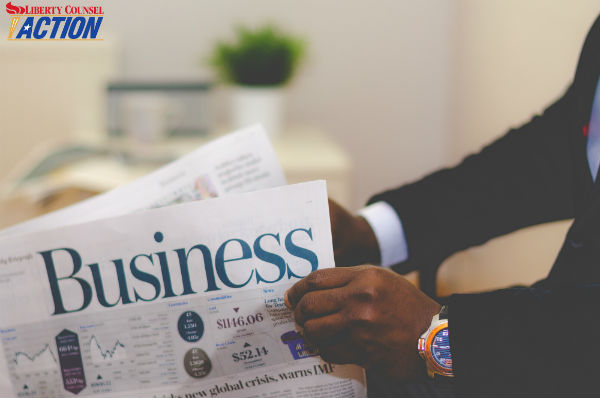 HR 5 is a very serious attack on your religious freedom. In one year, this bill has gained 38 new legislative co-sponsors, even while it mushroomed in the ways it will punish sincerely held religious beliefs.
This legislation will completely re-organize our society with privileges for LGBT individuals overpowering religious freedom. HR 5 will force churches to host same-sex ceremonies, hire LGBT individuals in leadership roles, accommodate gender confusion during overnight mission trips, and open up bathrooms to both biological genders. And that is just the beginning.
Businesses, non-profits, schools, even internet "stores," employers, employees, and basically everyone would be forced to bow or face the fiery furnace of lawsuits and government fines. There are zero exemptions for religious beliefs or freedom!
There are more than 100 corporate sponsors pushing this legislation, including groups like Apple, Google, Microsoft, Visa, Wells Fargo, Amazon, S&P, and Nationwide (who certainly isn't on the side of religious freedom)!
I want to challenge you; are you going to sit by while they try to purchase the destruction of our religious freedom? Or will you stand with me and fight for the rights given to us by God and recognized by our Founding Fathers? Liberty Counsel Action needs your best gift right now to help fund the extra work needed to fight this onslaught of anti-religious bigotry.
If we are silent now, that silence might become permanent.





Democrats are racing to lurch left as quickly as possible. Liberty Counsel Action is active on Capitol Hill identifying and educating Senators who are undecided. We believe the best way to stop this bill is to filibuster it in the Senate. However, these same Senators are hearing from some of the highest-powered lobbyists on Capitol Hill supporting HR 5.
Right now is the time to remind our friends and neighbors of the beautiful freedom that we currently enjoy and just

how quickly that can vanish!
I'm asking you to please take 45 seconds to add your name to our Liberty Counsel Action's petition against HR 5. This petition will end up on the desks of these undecided Senators and I want to be able to include your name in it! Your voice is a crucial part of our education efforts in Washington D.C. To read and sign, click the button below.

Who are we up against?

Here are examples in a few categories of who is pushing this extreme anti-religious HR 5:
Financial/Insurance
Visa, Foster City, CA

MasterCard Inc., Purchase, NY

American Express Global Business Travel, New York, NY

Capital One Financial Corp., McLean, VA

Citigroup Inc., New York, NY

JP Morgan Chase & Co., New York, NY

Wells Fargo & Co., San Francisco, CA

Bank of America, Charlotte, NC

Square Inc., San Francisco, CA

TransUnion, Chicago, IL

MassMutual, Springfield, MA

Nationwide, Columbus, OH

The Guardian Life Insurance Co. of America, New York, NY

S&P Global Inc., New York, NY
Technology/Web
Apple Inc., Cupertino, CA

IBM Corp., Armonk, NY

Microsoft Corp., Redmond, WA

Dell Technologies Inc., Round Rock, TX

Cisco Systems Inc., San Jose, CA

Hewlett Packard Enterprises, Palo Alto, CA

HP Inc., Palo Alto, CA

Intel Corp., Santa Clara, CA

Xerox Corp., Norwalk, CT

Google Inc., Mountain View, CA

Facebook Inc., Menlo Park, CA

Twitter Inc., San Francisco, CA

Pinterest Inc, San Francisco, CA

Adobe Systems Inc., San Jose, CA

Dropbox Inc., San Francisco, CA

Amazon.com Inc., Seattle, WA

eBay Inc., San Jose, CA

Airbnb Inc., San Francisco, CA

Netflix Inc., Los Gatos, CA

Glassdoor Inc., Mill Valley, CA

Shutterstock, New York, NY

Yelp Inc., San Francisco, CA

Zillow Group, Seattle, WA
Retail/Restaurants
AT&T Inc., Dallas, TX

T-Mobile USA Inc., Bellevue, WA

Verizon Communications Inc., New York, NY

General Motors Co., Detroit, MI

Abercrombie & Fitch Co., New Albany, OH

American Eagle Outfitters, Pittsburgh, PA

Best Buy Co. Inc., Richfield, MN

The Estée Lauder Companies Inc., New York, NY

Gap Inc., San Francisco, CA

Kenneth Cole Productions, New York, NY

Levi Strauss & Co., San Francisco, CA

Macy's Inc., Cincinnati, OH

Target Corp., Minneapolis, MN

UnderArmour Inc., Baltimore, MD

Johnson & Johnson, New Brunswick, NJ

IKEA Holding US Inc., Conshohocken, PA

Darden Restaurants Inc., Orlando, FL (Olive Garden, Red Lobster, etc)

Chobani, Norwich, NY

The Coca-Cola Co., Atlanta, GA

PepsiCo Inc., Purchase, NY

Food Lion, Salisbury, NC

General Mills Inc., Minneapolis, MN

The Hershey Company, Hershey, PA

Kellogg Co., Battle Creek, MI

Office Depot Inc., Boca Raton, FL
Travel
Alaska Airlines, Seattle, WA

American Airlines, Fort Worth, TX

Expedia Group, Bellevue, WA

Lyft Inc., San Francisco, CA

Uber Technologies Inc., San Francisco, CA

Choice Hotels International Inc., Rockville, MD

Hyatt Hotels Corp., Chicago, IL

InterContinental Hotels Group Americas, Atlanta, GA

Marriott International Inc., Bethesda, MD

Hilton Inc., McLean, VA

Chevron Corp., San Ramon, CA

Aspen Skiing Company LLC Aspen, CO

Caesars Entertainment Corp., Las Vegas, NV

MGM Resorts International, Las Vegas, NV
... and dozens more!

Equally concerning to this bill's complete reversal of our Constitutional freedoms is the vast number of people who support it! These companies represent nearly 6 million employees. Just imagine if these companies took it one step further and refused to do business with any authentic religious company or organization? HR 5 sets the stage for much, much worse discrimination against religious freedom!

Our organization relies solely on the support of individuals like you to fight this attack on our Constitution. I'm urging you to help Liberty Counsel Action quickly get the word out. Please prayerfully give your best possible donation to our organization to help fight this fierce battle today.



We must rise up to stop this well-coordinated attack on religious freedom. If HR 5 is allowed to pass without a fight, it will be the death of our constitutional freedoms! Join with me to make sure that doesn't happen!
Humbly,

Mat Staver
Chairman
P.S. Will you join with Liberty Counsel Action to fight for religious freedom? Support our ministry with a donation today, inform your pastor, and sign and share our petition today. Together with God's help, we can stop HR 5!