Horrific news hit yesterday when drug cartels repeatedly shot and burned young American mothers and children, killing nine of them just across the border into Mexico. But out of these ashes comes the heroic story of a 13-year-old boy heroically saving his six siblings, five of whom were bleeding.

No one should have to face the horror experienced by these young children. My heart breaks and our team is praying for these families as they try to put the pieces of their shattered lives back together.

What these children faced should NEVER be experienced by any family. Their family stood up to the cartels and corruption that surrounded their homes. And they paid the greatest price for their stand.

Yet, these crimes are exactly what our open borders are inviting into America! Organized crime is active and growing in our southern states. And right now, Congress is considering several funding options that would block funding for building more border walls.

I hope you will send an immediate fax to demand our nation protect our citizens from brutal, gruesome deaths at the hands of criminals. Just click below to get started. - Mat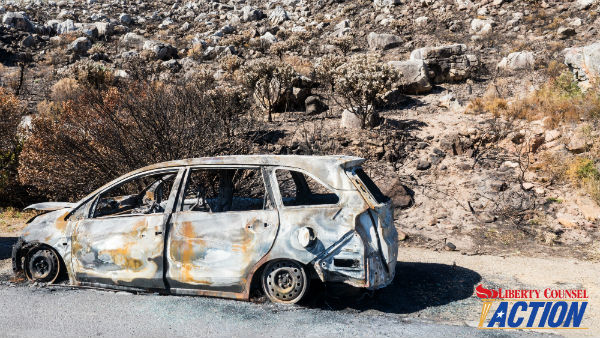 Devin Langford is a 13-year-old hero. He hid his six brothers and sisters in bushes near their car and he covered them up with branches to keep them hidden from the shooters.
His younger brother Cody was shot in the leg and the jaw. A fourteen-year-old, Kylie, was shot in the foot. Nine-year-old Mckenzie had been shot in the arm. Four-year-old Xander was shot in the back. And nine-month old Brixton was shot in the chest.
Devin decided to go get help. He spent hours hiking 14 miles to find someone that could get medical aid for his family. I can't even imagine the terror and sorrow of those miles as Devin had just seen his closest brother and mother gunned down in cold blood and was suddenly shouldering the weight of trying to save the rest of his family.
This is completely outrageous.
And it is exactly what radicals are welcoming into America with their battle for open borders with Mexico.
I hope you will take a stand against the organized crime that gunned down these little ones. Many of these drug cartels get their money from running drugs in the U.S. More border wall and better border security would cut off their flow of money from the United States. And it would stop funding these truly horrific crimes. Send a fax right now to make your voice heard up and down the halls of Congress.

There was more than one hero in this devastating moment. Christina Marie Langford Johnson was a 31-year-old mother. She jumped out of the car trying to gain mercy to stop the attack on her children and others. But her body was found "riddled with bullets" about 45 feet away from her car.
Her 7-month-old Faith was still in the vehicle. The baby's car seat had been moved to the floor to try to protect her. Eleven hours later, rescuers found the child miraculously unharmed in the car that was sprayed with blood and bullets. I encourage you to take a few moments to pray for this little girl, who was just reunited with her father.
I encourage you to take action to make sure that our nation is not empowering these cartels. This chaos is already at our doorstep. We don't need to welcome them inside.
I hope you will stand up to radicals in our own nation who are blind to the realities of what is still happening on our southern border. Send a fax today to make your voice heard to those who have the power to make a change.

We rely on friends to come alongside of us to help share the costs to change the minds of people on Capitol Hill. We want to help end the power of these drug cartels and protect innocent lives. Would you pray about becoming a monthly donor of 25, 50, or 100 dollars? We also would be very grateful for a one-time donation to help us focus on countering these radical lies with the truth.
Thank you for your help in upholding justice in the halls of our Congress.
Sincerely,
Mat Staver
Chairman, Liberty Counsel Action


P.S. We need to send a clear message to leaders in D.C. that we must protect these young children by creating secure borders. Help Liberty Counsel Action make a difference by faxing, donating, and forwarding this message to like-minded friends who want to see border security strengthened in America.