We must have fair and transparent elections. We will fight to make sure America does not become like a communist country. We are on the ground. This is not over.
There are a number of shocking irregularities in the election (from the post office to the precinct) that I'll share below. I want to encourage you that it is not the time to give up!
Liberty Counsel Action deployed staff on the ground in Pennsylvania last week to fight for law, order, and honesty in this election. There are two practical ways that you can help us right now.
First, I urge you to sign our rushed petition to President Trump to let him know that you are standing with his efforts to fight for a fair election. Then support our boots on the ground who are fighting for a peaceful, legal resolution with your donation to Liberty Counsel Action. -Mat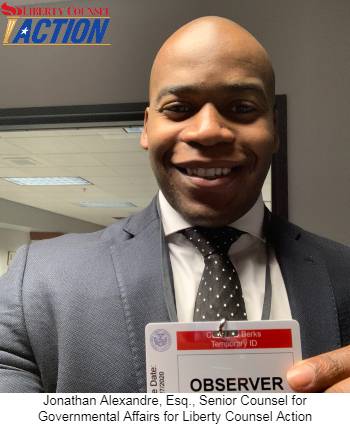 A second postal worker has come forward to confirm the story of the first whistleblower. This time in Erie, PA. The postal worker had stayed in the office later than usual and overheard a conversation between Postmaster Rob Weisenbach with a supervisor, Darrell Locke.
The whistleblower told investigative reporter James O'Keefe, "I heard him say to the supervisor that they messed up yesterday [Nov. 4] ... He told the supervisor they had postmarked one of the ballots for the fourth, instead of the third, because they were supposed to put them for third."
Even "two days after the election, the order to continue to pick up ballots still stands," the whistleblower said.
Manipulation of election ballots must be prosecuted. That is why Liberty Counsel Action has some of our best staff on site in Pennsylvania right now to investigate the ongoing process.

Sign our rushed petition to President Trump right now.
Support this investigation with your best possible donation to make sure that we have every resource needed to mount a strong defense of election integrity in Pennsylvania.

These problems are not just happening in Pennsylvania. Overnight in Detroit, three vehicles pulled up to the ballot counting facility to unload ballots. "All three of them had out of state plates," said another whistleblower.
"They're counting military ballots now. I heard around 7k... Every military ballot has to be duplicated (re-written). I don't know why. This is very concerning," the source concluded. Another precinct in Detroit even covered up the windows so the pubic couldn't see inside.
Examples raising concern about this election:
After the polls closed, in the early hours of the following morning, Michigan and Wisconsin had hundreds of thousands of ballots dropped off -- all for Joe Biden.

Federal investigators in Phoenix, Arizona, were looking in closets, trashcans and drawers in voting precincts and found more than 70,000 ballots, 44,893 were votes for President Trump.

In Delaware County, Pennsylvania, a poll worker was recorded on camera filling out ballots.

More than 14,000 deceased people voted in Detroit, Michigan.

The Wisconsin Secretary of Elections website published the election counts from each ward. Seven Milwaukee voting wards reported more votes than registered voters, with one ward reporting 202 percent more votes than registered voters. A few days later, Milwaukee election officials edited the numbers on the voter portal to show more registered voters than there were before.

The Nevada Republican Party claims to have discovered 3,062 instances of voter fraud and the party sent a criminal referral to Attorney General William Barr.
Back in Pennsylvania, precincts barred any Republicans from coming inside the precinct in direct violation of both the law and a judge's specific ruling. In addition, the Sheriff's office refused to enforce the judge's orders. Now, they are barring anyone who is not a lawyer, and when 30 lawyers showed up, they refused to allow anyone to be inside unless he or she was licensed to practice law in Pennsylvania.
We will not allow America to become like a communist regime. We must have fair elections. That is why we are on the ground in Pennsylvania.
We can only do this because of the financial support of our friends across America who help share the financial burden to fight these battles legally to restore peace and integrity in our nation.

We did not foresee the events of 2020, but God did. He is still on the throne. On Friday, Satan thought he won, but on Sunday he was wrong. Pharaoh had the upper hand, until God said, "Let my people go!"
Haman gleefully built a gallows, but God had other plans. Daniel was thrown into the lions' den, but God shut their mouths.

Winston Churchill, shared a valuable lesson, "Never give in. Never give in. Never, never, never, never--in nothing, great or small, large or petty--never give in, except to convictions of honor and good sense. Never yield to force. Never yield to the apparently overwhelming might of the enemy."
We have a new Year-End Challenge Grant that will effectively DOUBLE the impact of your donations between now and the end of the year.
This grant could not come at a better time. Please make your best possible donation TODAY.
"Fear not little flock, it is your Father's good pleasure to give you the kingdom." (Luke 12:32). With God, ALL THINGS ARE POSSIBLE.
We have work to do. Press on. Keep your eyes on the Lord!
Never give up.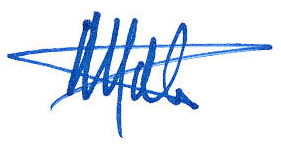 Mat Staver, Chairman
Liberty Counsel Action


P.S. NEW YEAR-END CHALLENGE GRANT! As I mentioned above, we have a new Challenge Grant that will effectively DOUBLE the impact of your donations between now and the end of the year! Select here or the button below.




P.P.S. Sign our petition to President Trump and then support Liberty Counsel Action's efforts in Pennsylvania to expose corruption and restore the integrity of this election.
Forward this message to like-minded friends who want to see free speech and fair elections preserved in America.
---
Sources:
Alba, D. (2020, Nov 5). There's a Simple Reason Workers Covered Windows at a Detroit Vote-Counting Site. The New York Times.
Hoff, J. (2020, Nov. 4). From Michigan Poll Watcher on the Scene: Republicans Allegedly Witnessed Suspicious Vehicles Dropping Off Ballots. The Gateway Pundit.