After reviewing the voter rolls of 41 states, former Department of Justice attorney and election expert J. Christian Adams concluded, "It appears there are hundreds of thousands of undetected dead registrants, dead registrants casting ballots, registrants with multiple registrations within the same state and different states." He said there are "people voting twice across state lines, and many registered at improper commercial addresses like casinos, gas stations and restaurants."
But instead of fixing this problem, the No. 1 goal of the Democratic leadership is to pass HR 1/S 1 ("HR 1") to make it significantly easier to commit massive voter fraud and impossible to detect or prevent it.
I don't want to make it hard to vote. I want to make it impossible to cheat. That is why HR 1 must be stopped. This is an urgent and critical battle! Send your fax to our senators to show them that we see through the radicals' lies and demand elections with integrity. —Mat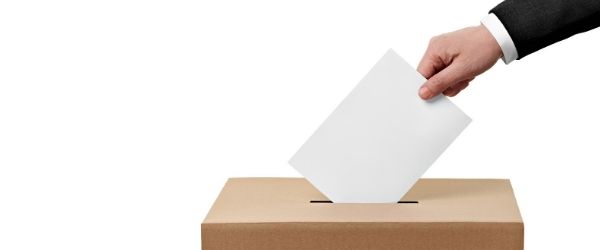 I want to share with you some important research on voter fraud. Shortly after becoming president, Donald Trump launched a voter integrity project to clean up the voter rolls. One of my very good friends served on that task force. But this project was stopped by Democrats who filed a dozen lawsuits and Democrat secretaries of state who refused to provide voter rolls. However, the Public Interest Legal Foundation (PILF) continued this effort and discovered the following:
Deceased voters in 41 states appear to total almost 350,000.

Michigan was one of the top five problem states, even though its population is ranked 10th in the nation.

There were 37,889 people who appeared to be registered—and voted twice from the same address in 2018.

Votes cast from a "nonresidential address" in 2018 totaled 34,000.
This shows how much fraud is already happening, not to mention 2020. And if HR 1 passes, fraud will grow. Send your urgent fax to senators and demand that HR/S 1 be stopped before it destroys elections.

I want to give you shocking numbers in just one of many layers of "fraud." When deceased people were cross-checked with voter registrants, the following matches were found:
Remember, this is just one type of fraud. In 2020, we verified many dead people (some from the late 1800s) in Pennsylvania who requested mail-in ballots, many of which were completed and returned.
In Georgia, we watched hidden ballots being pulled out from under a table after poll watchers were kicked out. In the border state of Arizona, thousands of voters in just one county never proved their citizenship but were still allowed to vote. In Michigan, government employees actively trained election officials to commit fraud and destroy legitimate ballots.
If HR 1 passes, it will destroy every action states have taken to fight for election integrity. We cannot allow this to happen! This is a very serious threat to our nation. Click to send your critical fax directly to key legislators.

To summarize, this bill is almost 900 pages long with more than 117,000 words. In case you have forgotten, here is a list of just the most egregious and dangerous aspects of HR 1. If this bill passes, it will:
Seize authority from the states and place the federal government in complete control;

Ban state voter ID laws;

Mandate no-fault absentee ballots;

Force states to accept absentee ballots up to 10 days after Election Day;

Automatically register all individuals (as opposed to "citizens"), and thus require the person to opt out;

Register convicted felons;

Allow people to vote outside their precinct;

Punish anyone who questions the validity of the voter;

Prevents poll watchers from cooperating with election officials to identify and challenge voter registrations concerning fraud;

With same-day registration, no ID and no ability to verify a voter, a person can go precinct to precinct voting multiple times under different names;

And much more.
And this is just the beginning of how this shocking power grab will swing wide open the door for even MORE election fraud. This must be stopped NOW! Send your urgent fax to the Senate and demand that HR 1 be stopped before it causes incalculable damage to our nation.

Remember the incredible frustration of when it looked like fraud would decide who was in the White House. We have the opportunity to stop this from becoming permanent. Together we can make sure that those in Congress understand the weight of this moment.
LCA is fighting this bill with all of our resources on Capitol Hill. Now is a critical time to take advantage of our extended Challenge Grant. DOUBLE the impact of your gift right now. Support Liberty Counsel Action by selecting here or the button below.

Thank you!
Mat Staver
Chairman
Liberty Counsel Action
P.S. We have a Challenge Grant that will effectively DOUBLE the impact of your donations! Select here to equip our staff to fight this battle for a free and fair election.
Then send a fax directly to members of Congress to urge them to fight election fraud. And sign our petition against this legislation. God's blessings on you.
Sources:
H.R.1 - For the People Act of 2021. (2021, Jan 4). 117th Congress (2021-2022 Session).
Public Interest Legal Foundation. (2020, September). Critical Condition: American Voter Rolls filled with Errors, Dead Voters, and Duplicate Registrations.