A Canadian father has been sitting in jail since March 25 because he refers to his 15-year-old daughter as a "girl." A British Columbian judge first banned the father from speaking about the court forcing him to call his daughter a "boy." The judge just sentenced this father to SIX MORE MONTHS IN PRISON!
This travesty will become commonplace in America if HR 5, the so-called "Equality Act," passes in the Senate.
We must do everything we can to defeat this dangerous bill. Rush your urgent fax to key U.S. senators along with a petition to stop the "Equality Act." —Mat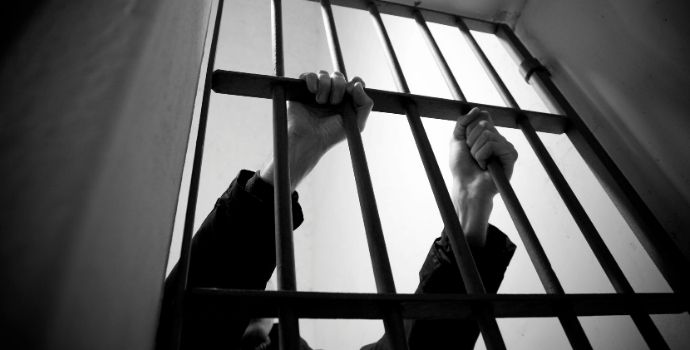 Rob Hoogland, a British Columbia father, has been jailed without bail since mid-March. His "crime" was refusing to be silenced about the opposite-sex hormone drugs the Canadian school system secretly had been giving his then-14-year-old daughter without his knowledge and against his will.
Hoogland has been fighting to protect his daughter from the sweeping LGBT and Q agenda for two long years since school propaganda campaigns convinced his girl that she might really be a boy. School officials then went ahead to give the child opposite-sex hormone drugs—without her parent's knowledge or permission!
In February 2020, British Columbian courts ruled that the girl could continue to receive hormone drugs from the government, over her parents' objection.
A gag order was issued on the parents, and the judge overseeing the case ruled that if either parent were to refer to their child as a "girl" or use "female pronouns" in addressing the child, they would be guilty of "family violence."
Horrified, Hoogland took to the airwaves to plead for help. The court saw this as defying the gag order, and Hoogland was arrested and held without bail on March 25, 2021.
On April 13, Hoogland was back before the judge, who asked him why he would not stop publicly discussing the case. Hoogland explained that he felt the entire world needed to know about the travesty to his family—and how the school's "transgender" program had tricked his daughter into believing she should become a "boy."
Hoogland told the judge that his child, and really any child her age, is too immature to fully understand the significant dangers of this life-altering ... and sometimes life-ending decision. Children have no understanding of the profoundly serious long-term physical risks associated with hormonal therapies that have consequences like cancer, heart disease and permanent hormonal instability, as well as depression when the realization sinks in about the permanent damage to their bodies, especially when healthy body parts are removed.
Tragically, people who have undergone hormone treatment and surgery to remove healthy body parts have an exponentially higher suicide rate.
If the so-called "Equality Act" is allowed to slip through the Senate, it will be used against parents who object to this damaging aspect of the LGBTQ agenda. DEMAND THE SENATE STOP THE "EQUALITY ACT"!

Mr. Hoogland found out that using the biologically correct pronoun for his own daughter can result in government persecution!
Hoogland said: "These kids are going to be handed a life sentence. It's irreversible. They will be sterile. They won't have families. A lot of them will eventually choose to commit suicide because you're compounding their mental health issues with this."
This month, Rob Hoogland was sentenced to six months in prison and $30,000 in fines for trying to save his daughter from this terrible fate.
But if the Senate passes the "Equality Act," we will see this level of persecution come to the United States.
Right now, our staff in D.C. is working with senators to prevent a procedure to bypass the 60-vote filibuster rule. Sen. Chuck Schumer invoked Rule 14, allowing him to bring up the bill at any time. The Democrats do not have enough votes to get past the filibuster. We are urging key Democrats (Senators Joe Manchin and Kyrsten Sinema) to keep the filibuster. And other key senators are guarding the floor every minute to prevent a last-minute maneuver.
The senators must hear from you. Your faxes and petitions are critical. Every vote counts.
Your faxes and petitions are making a difference. Fax the Senate to oppose this outrageous bill and protect our freedom.
Make no mistake, this bill is a serious threat. It will affect everyone, including places of worship and schools. It applies to websites, social media —anything online. It revokes the Religious Freedom Restoration Act. It will make abortion legal from conception to birth while overriding every state protection.
Even if you have sent a fax or signed a petition, I encourage you to do it again. We must not let up. The senators must hear from you frequently.
Our team in Washington, D.C., is in contact with members of the Senate to stop this bill. But we need your help.
You can also help us through our Challenge Grant to DOUBLE the impact of your gift. Support Liberty Counsel Action today.

I am grateful for the privilege of serving you on Capitol Hill and around the country. Working together, we can win this battle!
Sincerely,
Mat Staver
Chairman, Liberty Counsel Action


P.S. Our Challenge Grant will effectively DOUBLE the impact of your donations! Select here.
P.P.S. Then make sure that antireligious voices are not the only ones heard on Capitol Hill. Send your fax today. Please forward this email to your friends. If you haven't already, you can also sign our petition.
---
Sources:
Liberty Counsel. (2021, Apr 21). Prison Time for Calling His Daughter a Girl.