An EMS friend of mine finished her shift and spent her drive home crying. She loves what she does, but things have changed. She fears she will be terminated for not taking the COVID shots.
Her time in the ambulance helping someone fight for their life may soon end. She has held the hand of many dying and hurting people. We must now hold her hand. She is a hero. We must fight for her and millions like her.
For the past 18 months, first responders, nurses and other health care workers have been called heroes. They ran to danger. Now they are being threatened with termination unless they inject an experimental drug into their bodies. THIS IS NOT RIGHT.
Today they are being fired for the same religious or moral beliefs that gave them the strength to make these incredible sacrifices.
Stand in solidarity with these people! Help us fight for them. —Mat
Help us fight for our health care workers.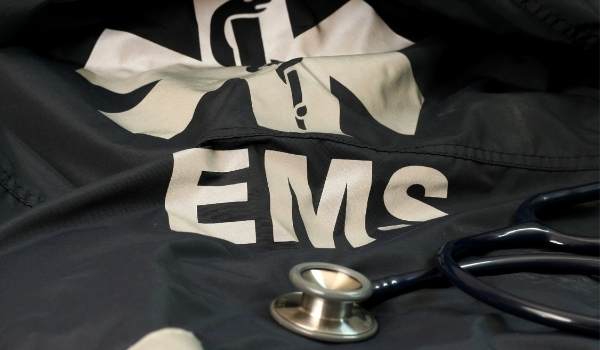 My EMS friend could be forced to leave the job she loves. She just worked a 24-hour shift. That is what these heroes do. They fight for us. They stand in the gap to give us life.
She put her life on the line for MONTHS during COVID to treat people. Now her employer is treating her body like a petri dish for an experimental drug! I will not run when my friends and millions like her need help.
We are working with health care workers in a hospital that employs 14,000 people, of which 66% have not received the shots and refuse them. They are now threatened with termination.
We are being inundated with calls.
My employer wants proof of vaccination. … At the height of Covid, I was the only public defender that would go to the prisons to see clients. My employer sent me to see the inmates that were in prison hospitals. Currently I am the only public defender to visit clients in mental facilities. I work remotely. ... I have worked for that office for close to 30 years. Is there anything I can legally do?
NO ONE SHOULD BE FORCED AGAINST THEIR WILL. We must fight for health care workers, vets, soldiers, students and anyone who is being forced. Stand with us so we can stand with these precious people.

The COVID shots are neither safe nor effective.
As of July 23, 518,769 injuries and 11,940 deaths following these COVID shots have been reported to the CDC VAERS log.
In Provincetown, Massachusetts, 3 out of 4 cases of COVID were among those who had received all the shots (74%). This town is in a county with an injection rate of 76% of the total population.
The CDC finally admitted that viral load (the ability to give the virus to someone else) was high among both the injected and the uninjected!
On the other hand, 11,940 people and counting have died after taking this jab ... and for what? In addition, more than half a million people have reported adverse reactions, including heart attacks, permanent disabilities, seizures, miscarriages, blood clots and more.
Already Veterans Affairs has made this jab mandatory for all employees (about 400,000). Tyson Foods is forcing all its employees and even the Olympic athletes the company is sponsoring to get the jab (about 150,000 employees)! The University of California is demanding its 500,700 staff and students get the shots.
The clock is ticking. We must help these people.
Give to LCA today to help us help people fight back!
Data supplied by Israel—one of the most "vaccinated" nations in the world—shows that 64.5% of those hospitalized and 67% of seriously ill people with COVID were "fully immunized" with both shots.
That's according to a report released by the Israeli Ministry of Health on July 20, 2021, and reported via Israel Hayom and other international news sources ... but not the American media.
In the U.K., the British Health Ministry reports that 87.2% of active COVID cases are among the "fully vaccinated." America's media ignored that too.
And in Gibraltar, COVID cases are rising at an alarming rate despite the fact that the British territory (which borders Spain) says its citizens are at or near 100% vaccinated! But over the past couple months, its new cases graph went straight up. Like Israel, the U.K. and elsewhere, the data shows the shots are not preventing infection.
We know Hydroxychloroquine and Ivermectin work. We don't have to force people to get these shots. The right to consent is the fundamental cornerstone of medical treatment. Help us defend millions of people to make their own choices. If we stay silent, the professional lives of millions of people are over!
Give to LCA today to help stop this injustice.
You can also raise your voice to our state and federal leaders! We are making a difference!
Send faxes to state and federal lawmakers. Say NO TO MANDATORY COVID SHOTS AND VACCINE PASSPORTS!

Finally, spread the word about the national WalkOutWednesday on August 11—a national protest against medical tyranny.
Sincerely,
Mat Staver, Chairman
Liberty Counsel Action


P.S. Join our extended Challenge Grant to effectively DOUBLE the impact of your donations! Select here to equip our staff to fight this battle for free and fair medical choices. Then send faxes to key leaders demanding NO MANDATORY SHOTS OR VACCINE PASSPORTS. And then sign our petition.
P.P.S. Learn more by visiting WalkOutWednesday.net.


Click here to invite friends to join the protest!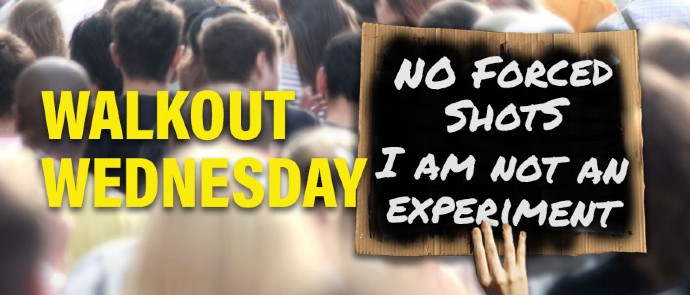 ---
Sources:
Lovelace Jr., Berkeley. 2021. "CDC Study Shows 74% of People Infected in Massachusetts Covid Outbreak Were Fully Vaccinated." CNBC. July 30, 2021. cnbc.com/2021/07/30/cdc-study-shows-74percent-of-people-infected-in-massachusetts-covid-outbreak-were-fully-vaccinated.html.
‌ "The OpenVAERS Project." 2021. The OpenVAERS Project. Openvaers.com/covid-data.
Washburn, Lindy. 2021. "NJ Health Care Workers Required to Get COVID Vaccines by Sept. 7 — or Test Weekly." USA TODAY. August 2, 2021. USAToday.com/story/news/coronavirus/2021/08/02/nj-governor-murphy-health-care-employees-mandatory-covid-vaccine-test/5453049001/.