A recent whistleblower video exposed that staff at a nursing home had given a woman named Joanne a chemical restraint (like Xanax). Once that drug had taken effect, "the resident was lied to about what shot she was receiving." They told her she was getting the flu vaccine when they were actually forcing her to take the COVID injection.
"You're not supposed to do that," said another staff member who indicated they were supposed to have a care conference or telehealth visit with the family to get their permission.
Then at 3 a.m., this staff member's phone started ringing because that same resident, Joanne, was no longer responding. She was sent to the hospital, but he said in tears, "By the time she got to the hospital, she died."
This is not an isolated incident according to whistleblowers with Project Veritas. There is a significant amount of elder abuse going on. Our most vulnerable are being lied to and forced to take a deadly injection ... and it's killing them.
These nursing homes are already so critically short of staff that some are having to falsify records to hide care not being handled. Estimates at this one location were that staff members were only performing about half of the needs of their patients. However, we are hearing from entire states where massive numbers of additional nursing home staff will be fired if they don't get the injection—even though it's killing people like Joanne.
The rights of nursing home residents and staff are being destroyed all across America. We are working frantically to help stop this abuse and murder in every way that we can. When you support our ministry, you help us stand up and fight against mandatory injections being forced on innocent people like Joanne.
Right now, we need to stop the rush to force people to get a COVID shot against their will. DOUBLE your gift through our Challenge Grant. Demand liberty through your urgent donation today. —Mat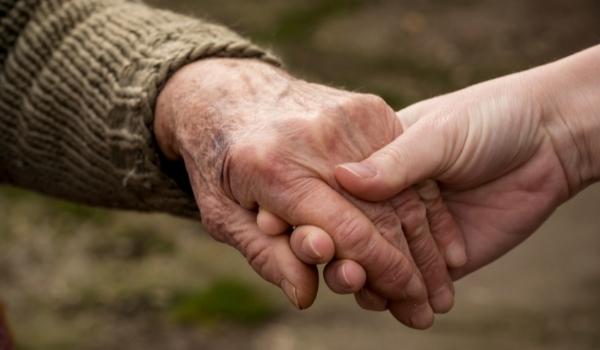 These mandatory rules force all nursing home staff to take this jab or lose an already stressful job. This will make a horrific situation much, much worse! My team has been contacted by numerous nursing home workers. From just one location, more than 50 people who were refusing the shot reached out to us for help!
Another wrote, "I need help with keeping my job. I need help with writing my religious exemption. Please someone get a hold of me. I live in Oregon, and we have a dictator as a governor, Kate Brown. She is out of control. I'm a caregiver, and now they are saying that we have to get the shot."
Another wrote us, "The largest nursing home chain in the country has told all employees that they have to get vaccinated ... or lose their jobs. They just posted my job today on their careers website. I filed a religious exemption form last week ... Help me!"
A fourth person working in a nursing home asked us for help, saying she is "tested now 2 times each week. They may fire me because I decline the vaccine."
Both those who are residents at these homes and the staff who work there are in the crosshairs of these injection mandates. And already some of them have lost their lives to these government mandates. We are standing up and fighting against this in every area we can, but our staff is stretched so thin! When you support our ministry, you help strengthen our team to stop this injustice and restore freedom once again.
We must help these desperate people. We will not abandon them. Help us serve these precious people with your gift today.

"Vaccine Adverse Events Reports" have skyrocketed to 10 times higher than reactions from each of the last 31 years!
Since the jabs were released Dec. 14 of last year, an average of more than 55 people have died suspiciously after these injections and more than 2,500 people have reported adverse reactions ... every single day since then! That's 675,591 total reactions to these COVID jabs.
These are horrific and shocking numbers. Saddening and angering, really!
One woman shared her own injection reactions: "When I received the second dose, I was very dizzy, and they kept me for an additional 15 minutes. I was at work, so I went back to the floor and finished the hour or so I had left on my shift. That night, I felt achy, and by morning, had a fever so I called out. That day, I got progressively more achy, and my head was throbbing. I thought this was the normal response, but by the second morning after, I couldn't walk. My joints were on fire. My partner had to assist me to the bathroom. This went on for the next 3 days. I then started experiencing joint swelling and pain. I took a lot of Tylenol and ibuprofen. I tried to go back to work the next week, but I ended up having to go home for fevers and myalgia. The joint swelling, brain fog and massive fatigue set in and continued on. I had to go on leave by April."
She continued, "I kept feeling like I was having a panic attack when nothing was wrong. My heart rate was elevated almost all of the time, between 100 to 145 at rest. My lower legs also have swelling with activity. I have seen many doctors and was taken advantage of by a naturopathic chiropractor who charged me thousands of dollars. I changed my diet to omit sugar, carbs, dairy and inflammatory substances. I finally made it to a neurologist today. Seven months into this and have yet to see a cardiologist. This doctor today finally fully acknowledged I have an autoimmune condition from the vaccine."
No one should be forced to take the shots and experience what this person is facing on a daily basis. At Liberty Counsel Action, we are fighting for the freedom for individuals to make up their own minds—and many, like Mona from Texas, are grateful:
"Your prayers and extension of help mean everything! I could never express how grateful I am to have people like you guys offering support during this unprecedented time. People in our situation are receiving little to no support. You are definitely doing God's work. God bless you, and again, thank you from the bottom of my heart."
Key leaders need to stand up and push back against mandatory jabs and vaccine passports. Demand freedom through your urgent fax to these decision-makers now.

I am grateful for how people across America are helping equip our team for this critical moment.
Thank you,
Mat Staver, Chairman
Liberty Counsel Action


P.S. Join our Challenge Grant to DOUBLE the impact of your donations! Select here to equip our staff to fight this battle for free and fair medical choices.
P.P.S. Send a fax to key leaders to say NO MANDATORY COVID SHOTS OR VACCINE PASSPORTS. And then sign our petition to be delivered at critical moments in this fight against mandatory vaccinations.
Then join Walk Out Wednesday. Learn more at walkoutwednesday.net.
*Names in this email have been changed for privacy.


---
Sources:
"BREAKING: Two Healthcare Insiders at Aegis Living Blow Whistle on Alleged Elder Abuse and Medical Fraud ... 'Aegis Living Is Grossly Taking Advantage of Severely Vulnerable Adults' ... 'Signature Had Been Forged Multiple Times.'" 2021. Project Veritas. September 14, 2021. Projectveritas.com/news/breaking-two-healthcare-insiders-at-aegis-living-blow-whistle-on-alleged/.
"COVID Vaccine Landing." 2021. OpenVAERS. Openvaers.com/covid-data.
D.Y. California. 2021. "Real Testimonials." C19 VAX REACTIONS. August 24, 2021. C19vaxreactions.com/real-testimonials.html.
Margulis, Jennifer. 2021. Who's Really Being Hospitalized? The Epoch Times.com. August 30, 2021. Theepochtimes.com/mkt_morningbrief/whos-really-being-hospitalized_3963392.html.
PROTEST FOR FREEDOM! 2021. Walk Out Wednesday: 12 noon your time zone. WalkoutWednesday.net
"Vaccine - Liberty Counsel Action." 2021. Lcaction.org. Accessed August 16, 2021. Lcaction.org/vaccine.