Yesterday, health care workers in New York faced the deadline to receive their first COVID jab. Many resigned. The Lewis County General Hospital had to turn away pregnant mothers and close its maternity ward because so many staff members resigned over these forced injection mandates! The forced shots have created a national emergency that will impact everyone needing health care.
For the past 18 months, these health care heroes have shouldered an unbelievable burden caring for patients. Now they are forced to leave the profession they love and are being discarded like medical waste. They placed their lives on the line for us. We will now fight for them.
My team is on the front lines in New York with a lawsuit fighting for the religious and medical freedoms of these health care workers. We are taking on the NY governor as well as the state's five largest hospitals. This is a huge undertaking, but it MUST be done to fight for the freedom to be able to make your own medical decisions here in America!
We are quickly approaching half a million people who have viewed our video offering help for their religious exemptions. Our efforts are having a huge impact across the nation!
When you give to LCA, you help us serve people in some of the greatest crises of their lives. The impact of your gift will be DOUBLED through our Challenge Grant. Help us fight for life and liberty. —Mat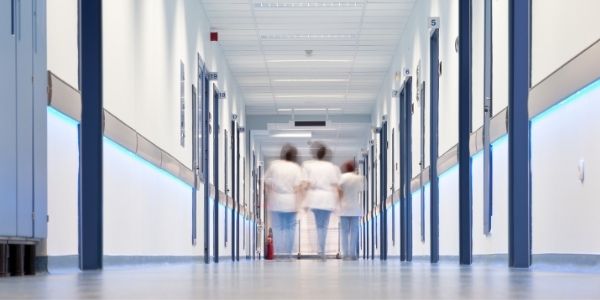 In the next 48 hours, a medical facility in California is demanding ALL staff have the shots or be fired. The staff was already stretched thin, but now more than 100 are being threatened with termination.
One of these 100 heroes reflected on what she is facing: "Threats, stress, forcing people to get vaccinated against their will ... Now management is going up to people saying. 'Oh, are you leaving?' Making single mothers cry with no support from our union!"
She asks, "Help us get answers to exemptions so we can get back to work! We just want to help our community, and the stress they are putting on us is worse than the crisis of being short staffed and caring for our patients that are sick!"
This is life or death. These medical professionals care for COVID patients and for those who have been injured or died FROM THE SHOTS. Now they are being forced to take the same injection! We have seen this before in history. It was shameful then and is shameful now.
According to VAERS, there are 726,963 reported adverse reactions to these shots. One person shared after the second shot, "I could not use my legs very well and could hardly walk. I suspect GBS [Guillain-Barre Syndrome] nerve damage. Not getting better. More symptoms accruing." There are 15,386 people who have died, 20,789 people with permanent disabilities and 2,122 miscarriages after these shots. And these shocking numbers are just the tip of the iceberg.
Yet our government, many employers, schools and the military are severely punishing people and treating them like human waste. We are committed to helping these desperate people, but we cannot do it alone! Your gift today helps us fight for freedom.
I have never seen anything like we are now witnessing! There are approximately 450,000 health care workers employed in New York state alone. They are all being forced to get the shots or be fired!
Gerald Cayer, CEO of the New York-based Lewis County Health System, shared at his location, 30 hospital employees got the shot, 30 staff members resigned because of the forced injections, and seven staff were undecided about the shot at the time of his announcement.
"We are not alone," this CEO warned. "There are thousands of positions that are open north of the Thruway [New York], and now we have a challenge to work through" because of this forced injection mandate.
This health care shortage will affect everyone.
One health care worker at Providence Health Care in Orange, California, said her religious exemption was "provisionally approved pending review." Meanwhile, the employer announced it is "immediately hiring 17,000 caregivers and are offering up to $7,000 referral bonuses for current caregivers."
Knowing these forced shots will drastically decrease the number of health care workers, these hospitals are planning to replace American workers with foreign workers. "The last thing I want is to be working for several more months and suddenly get a denial of my exemption once they hire somebody to replace me," the Providence worker added.
This is the ultimate betrayal! These health care providers have been working under unimaginable pressure. They placed their lives—and the lives of their families—on the line, as they labored, fighting a then-unknown disease. They have sacrificially served others and now they are being discarded!
From the pattern we are seeing across the country, many hospitals are willing to fire their faithful workers and then replace them with cheaper, less experienced, foreign workers providing sub-standard care.
We are fighting for these health care heroes. Help us help millions of people. We need to stop this evil. Give to LCA to stop this injustice.
You can sign up to give monthly recurring donations or a one-time gift that our Challenge Grant will DOUBLE.

Another thing you can do: Send faxes to state and federal lawmakers. Say NO TO MANDATORY COVID SHOTS AND VACCINE PASSPORTS!
Thank you!
Mat Staver, Chairman
Liberty Counsel Action


P.S. Our Challenge Grant will effectively DOUBLE the impact of your donation! Select here to equip our staff to fight this battle for free and fair medical choices.
P.P.S. Send faxes to key leaders demanding NO MANDATORY SHOTS OR VACCINE PASSPORTS. And then sign our petition.


---
Sources:
D.U. - Wisconsin. 2021. "Real Testimonials." C19 VAX REACTIONS. August 23, 2021. C19vaxreactions.com/real-testimonials.html.
"NY Health Care Heroes File Lawsuit against Shot Mandate." 2021. Liberty Counsel. September 10 2021. Lc.org/newsroom/details/091021-ny-health-care-heroes-file-lawsuit-against-shot-mandate.
‌"Resources & Research." Liberty Counsel Action, 2021. LCAction.org/vaccine.
Salathe, Sandra. 2021. "Upstate NY Hospital Pauses Delivering Babies after Workers Refuse Shot." Mail Online. September 12, 2021. Dailymail.co.uk/news/article-9982047/Hospital-upstate-New-York-pause-delivering-babies-six-nurses-refuse-COVID-19-vaccine.html.
"The OpenVAERS Project." n.d. The OpenVAERS Project. openvaers.com/covid-data.