Tomorrow, federal funding will run out. Democrats are under an incredible time crunch. And they are using this rush to come after your children as a part of their budget plan on Capitol Hill.
The so-called "Build Back Better" (BBB) bill includes "Universal Preschool" creating even more government indoctrination! It empowers a government grab of our children or grandchildren starting at 3 years old through offering not-so-"free" preschool! I'll explain below how this would be better called the "Build Back Bolshevik" bill!
In the face of public schools forcing COVID injections, shocking Critical Race Theory, and graphic and perverted behaviors to kids as young as 5 years old across our nation ... now congressional Democrats want to control our nation's future starting at an even younger age. Send your urgent faxes now to senators to stop this radical takeover of our nation! —Mat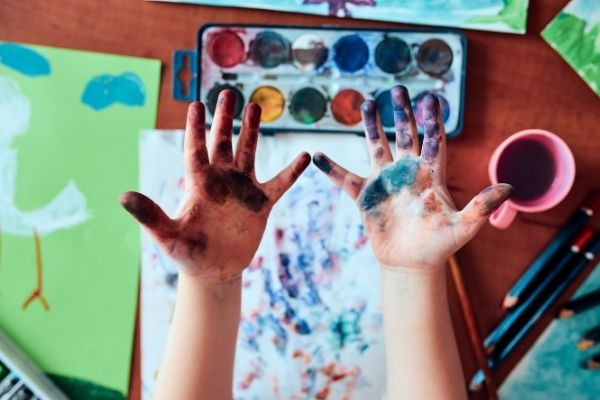 Our nation has been shocked by the radical and perverted agendas being taught in our public school system. This has awakened a movement of parents in America demanding change.
But the federal government is ignoring you. Instead, Democrats are pushing for a racist, bigoted, antireligious, CRT-based universal preschool for 3- and 4-year-olds in all 50 states.
For states to receive federal funding, the bill will force each one to submit a certificate that judges "high-need communities," which are identified as "impoverished" or "underserved or vulnerable populations" and then the states must promise to "prioritize" the "establishment and expansion" of preschool services more heavily in those neighborhoods! This is well-known code for minority communities, which disadvantages other 3- and 4-year-olds based on their skin color!
But it doesn't stop there.
It prioritizes funding to first serve non-English-speaking children identified as "dual language learners." Often this applies to children who are here illegally, and it gives those 3- and 4-year-olds greater access to opportunities than the English-speaking children of our own law-abiding citizens!
The federal government can't even equally provide preschool opportunities to all small children but has to use this to disadvantage some children based on their skin color or their parents' language or their neighbors' level of success!
This is outrageous! And even more so that it uses your tax dollars to accomplish this! I believe we can STOP this bill. The choice is ours to stand up and fight it. We need just one Democratic senator to say NO to block this bill! Send your urgent faxes today.
This BBB bill grants government funds to remodel preschool facilities and even private homes that offer preschool services. But if the preschool dares to be housed in a facility tied to a church or synagogue, then these same grants are prohibited!
The bill states, facilities "primarily used for sectarian instruction or religious worship; or (II) in which a substantial portion of the functions of the facilities are subsumed in a religious mission" are prohibited from grants for "modernization, renovation, or repair of facilities."
This bill will offer your tax dollars to fund grants to secular facilities to create brand-new, state-of-the-art rooms and buildings, but churches and religious preschools must pay for these same costs for safety improvements for preschoolers out of their own pockets. This exposes that Democrats want to protect secular institutions and the children who attend them but are willing to disadvantage and even ignore the physical needs of children under religious teaching.
This is religious discrimination, plain and simple, and it is packed into the BBB bill.
That is what the Democrats are forcing through Congress. We cannot allow our tax dollars to create discrimination and disparity! This bill must be stopped now. Make your voice heard by the senators with your critical faxes today.
This BBB bill mandates that people who want to advance in the field of children's education must have a college degree. People who want to help raise these preschoolers must first submit to four years of predominantly socialist education and mentorships.
For example, one study found that there were more than 10 times as many Democrats as Republicans teaching in top-tier colleges. In fact, the person studying this disparity said, "faculty political affiliations at 39 percent of the colleges in my sample are Republican free — having zero Republicans" within their faculty.
This is a very anti-America, Marxist-Socialist indoctrination, all while pushing religious preschools out of the competition with poorer facilities.
This BBB bill also pushes the expansion of the 15-dollar/hour minimum wage. It mandates each preschool and state "provide a living wage for all staff" in these facilities.
This intentionally vague language allows the federal government to mandate significant increases to the 15-dollar amount by simply defining a "living wage" to be 20 or even 25 dollars per hour next year, or even next month.
This mandate disadvantages religious parents, inhibits the children of U.S. citizens, limits the opportunities of non-college-educated people. It even estimated spending 200 billion dollars while leaving states with a massive unfunded mandate in the future. Tell Congress to block this bill now!
We cannot wait for someone else to fight this bill. We must stand up now and kill this bill.
Sincerely,
Mat Staver, Chairman
Liberty Counsel Action


P.S. DOUBLE the impact of your donations! Select here to equip our staff to fight this battle against a horrific radical agenda thinly disguised as a "budget."


P.P.S. Prefer a petition over a fax? Select here.
---
Source:
Yarmuth, John A. 2021. "H.R.5376 - 117th Congress (2021-2022): Build Back Better Act." Congress.gov. September 27, 2021. Congress.gov/bill/117th-congress/house-bill/5376.